b. 1948 in Wokingham, Berkshire, UK.
My family moved in 1953 to Newton Stewart in southwest Scotland where we lived on a dairy farm close to the Solway Firth.
From an early age, I wished to become a writer. On settling in Edinburgh in 1976, I worked as a freelance journalist, writing for Scottish newspapers, magazines and broadcasting for BBC Radio Scotland. Around 1987, as a result of my interest in using words in a visual form, I took up needlework and embroidery and began to stitch lettering with silk and woolen thread on linen and canvas.
At the same time I gave tuition in creative writing in workshop settings and at the University of Edinburgh. After teaching English as a foreign language for a few months in Mantova, Italy, I returned to Scotland and settled with my then partner in Sutherland. In July, 1990, our daughter, Julia, was born. Three years later, I returned with my child to Edinburgh and resumed my career as a part-time theatre reviewer. To supplement my income I took other forms of employment: gardening, assisting a wheelchair-user and ghost-writing the autobiography of an Edinburgh restaurateur.
In December, 2012 I went back to my childhood stamping-ground in southwest Scotland, and settled in Drummore, Dumfries & Galloway.


EDUCATION

1953-1958 Penninghame Primary School, Newton Stewart
1958-1964 Badminton School, Bristol
1971-1974 Royal Scottish Academy of Music & Drama, School of Drama

AWARDS

1974 Diploma in Speech and Drama
1980 Bursary, Scottish Arts Council
1984 Writer's Bursary, Scottish Arts Council
1986 Awarded membership of National Union of Journalists
2012 Awarded membership of The Society of Authors
My full CV can be download as a pdf by clicking on the image below.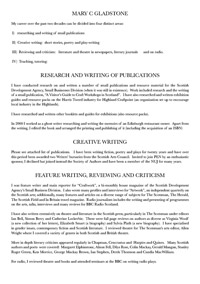 >>
>